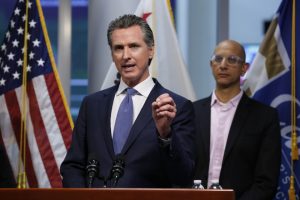 The LOS ANGELES TIMES reports that several major banks and financial institutions have agreed to delay foreclosures and provide mortgage relief to California homeowners who are struggling to make their monthly payments due to the novel coronavirus outbreak, Gov. Gavin Newsom announced Wednesday.
The assistance comes as more than 1 million Californians have applied for unemployment benefits this month due to layoffs or reduced hours amid the pandemic, Newsom said.
Eligible homeowners would be able to defer mortgage payments for at least three months and perhaps longer if they suffer hardship due to the pandemic. Any late payments would not be reported to credit agencies.
Newsom said the mortgage relief package was negotiated with four of the nation's largest banks — Wells Fargo, U.S. Bank, CitiBank and J.P. Morgan Chase — as well as 200 state-chartered banks and credit unions.
"We still have people that are struggling to get back to where they were before the Great Recession," Newsom said of the financial struggles Californians have experienced, now exacerbated by the coronavirus outbreak. "People are older and still struggling. And so these are individuals that once again are disproportionately being impacted by this moment."
At a news conference to announce the homeowner assistance, Newsom noted that Bank of America agreed only to allow customers to defer mortgage payments for one month, but said he is hopeful the institution "will do the right thing" in the near future.
Bank of America disputed Newsom's assertion that it was resistant to providing more generous mortgage relief to homeowners. "Bank of America is deferring mortgage payments on a monthly basis until the crisis is over," said spokesperson Bill Halldin.
Diana Dykstra, president and CEO of the California Credit Union League, the trade association for credit unions in the state, said "we are always first to reach out to our members and do whatever we can to help them when they have financial difficulties."
The governor's announcement on Wednesday came a week after Newsom ordered all California residents to stay at home to help stem the spread of the virus, with limited exceptions for essential workers — including doctors, nurses, grocery store employees and truckers. Residents are permitted to leave the house for necessities, such as trips to supermarkets and to see the doctor, and to go outside for recreation, but are urged to keep a safe distance from others.
Click here  for the full article on the LA Times website.